[CD6000] SMOChem™ dGTP Solution - Sodium Salt (100 mM)
Description
Ultrapure dGTP supplied as sodium salt in purified water (pH 8.5).  
Features
Ideal for PCR amplification and cDNA synthesis

Nuclease and ribonuclease free
Applications
DNA amplification

cDNA synthesis
Storage
-20°C for 24 months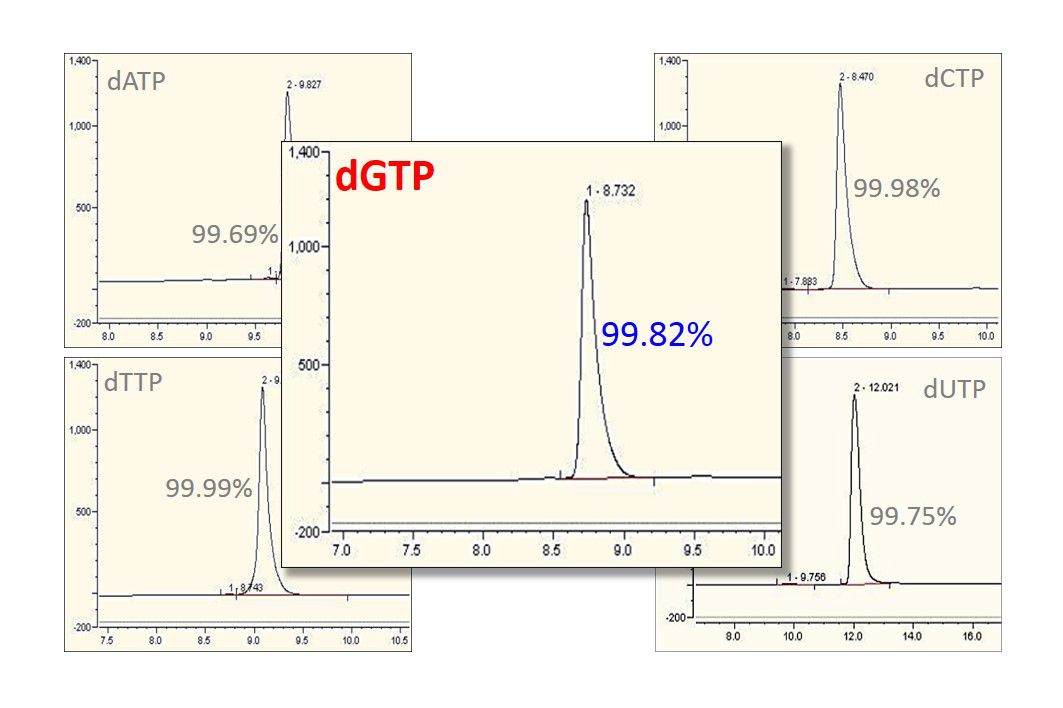 Ultrapure 
Greater than 99% purity confirmed by HPLC.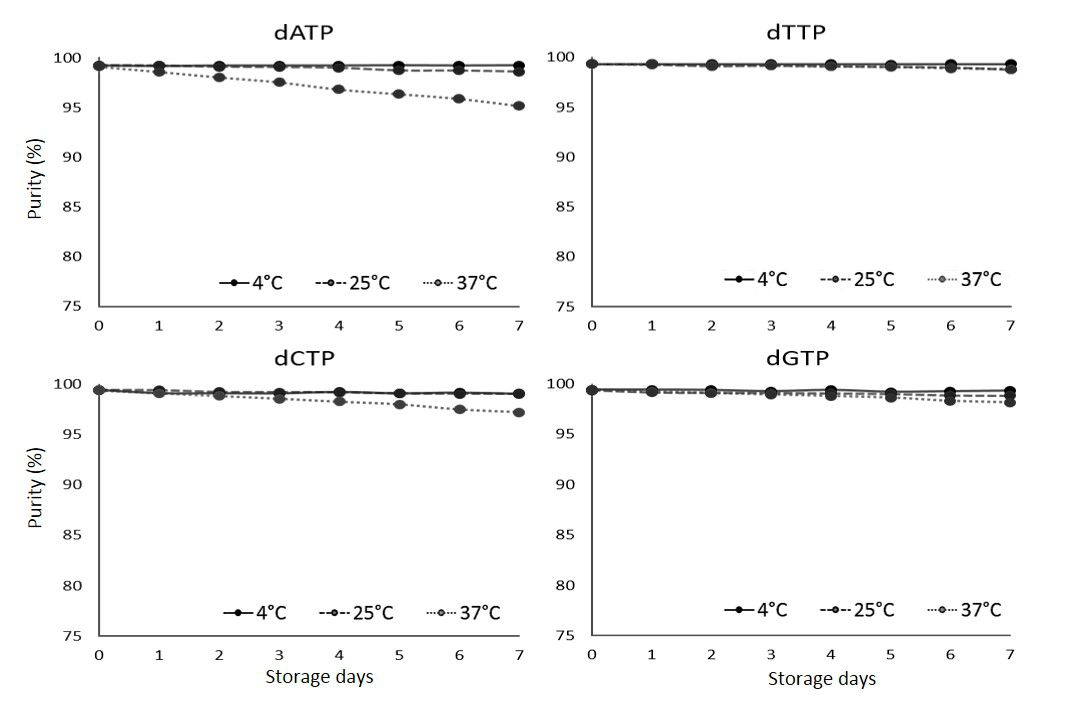 Highly Stable
The purity of SMOBIO's dNTP remained greater than 99% after one week storage at 25°C.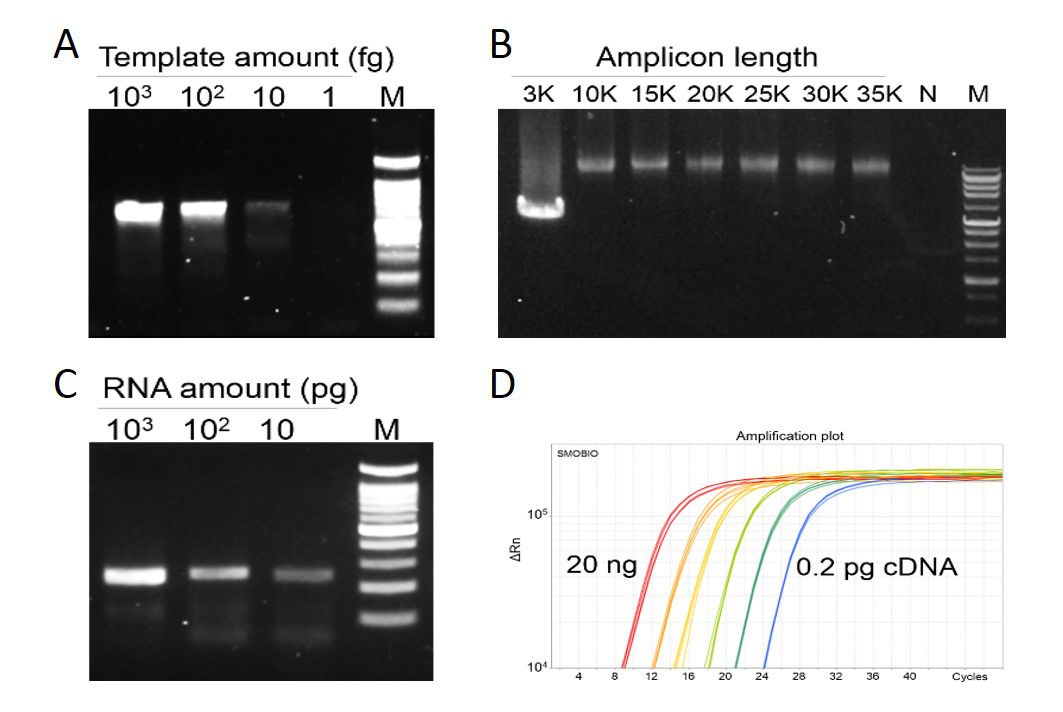 Functionality
SMOBIO's dNTP are optimal performance for general PCR (A),  long range PCR (B), RT-PCR (C), and real-time PCR (D).
Specification
Product Name

dATP Solution - Sodium Salt

dTTP Solution - Sodium Salt

dCTP Solution - Sodium Salt

dGTP Solution - Sodium Salt

dUTP Solution - Sodium Salt

Cat. No.

CD3000

CD4000

CD5000

CD6000

CD7000

Nomenclature

2'-Deoxyadenosine

5'-triphosphate

2'-Deoxythymidine

5'-triphosphate

2'-Deoxycytidine

5'-triphosphate

2'-Deoxyguanosine

5'-triphosphate

2'-Deoxyuridine

5'-triphosphate

Formula (Anion)

C10H13N5O12P3

C10H14N2O14P3

C9H13N3O13P3

C10H13N5O13P3

C9H12N2O14P3

Storage

at -20 °C

at -20 °C

at -20 °C

at -20 °C

at -20 °C

Stability

24 months

24 months

24 months

24 months

24 months

Appearance

Colorless

Colorless

Colorless

Colorless

Colorless

Concentration

100-110mM

100-110mM

100-110mM

100-110mM

100-110mM

Purity (HPLC)

≧ 99%

≧ 99%

≧ 99%

≧ 99%

≧ 99%

A250/A260

0.78±0.02

0.64±0.02

0.82±0.02

1.15±0.03

0.74±0.03

A280/A260

0.15±0.01

0.74±0.02

0.97±0.02

0.67±0.02

0.38±0.02

A290/A260

N/A

0.24±0.02

0.30±0.02

0.28±0.02

N/A

pH (4°C)

8.5±0.1

8.5±0.1

8.5±0.1

8.5±0.1

8.5±0.1

Cation (Mg2+)

≦ 5 mM

≦ 5 mM

≦ 5 mM

≦ 5 mM

≦ 5 mM

Phosphate (PO43-)

≦ 2 mM

≦ 2 mM

≦ 2 mM

≦ 2 mM

≦ 2 mM

Contamination with human DNA (18S rRNA) or bacterial DNA (16S rRNA)

Negative

Negative

Negative

Negative

Negative

Proteases, DNases, RNases, or Nicking Activity

Negative

Negative

Negative

Negative

Negative